As some of you may or may not know, I run a second small business, called Bitterroot Baked Goods. So in the summer along with all my bath goodies...I sell baked goods as well. Mainly bread.....This past fair season, my German Rye Bread took class champion...which I was pretty stoked, since this was my first fair entry in my entire life...my sourdough bread took second place.
Anyway I was recently presented with a challenge by a Sustainable Living Group here in the Valley. I needed 48 muffins made with as many local ingredients as possible....!? Wrong time of year I thought to myself...but I did rather well...in all the recipes...I would say nearly 80% were locally made/grown/produced! So I thought I would share with you one of the recipes I used.
LEMON RASPBERRY MUFFINS:
1/2 cup lemon yogurt
3 tablespoons vegetable oil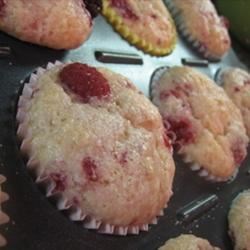 3 -4 tablespoons lemon juice
2 egg whites
1-2 teaspoon lemon extract
1 1/2 cups all-purpose flour
1/2 cup honey
2 teaspoons baking powder
1/4 teaspoon salt
1 teaspoon grated lemon zest
1 cup frozen raspberries
coarse white sugar for decoration
DIRECTIONS
Preheat the oven to 400 degrees F (200 degrees C). Grease a 12 cup muffin tin, or line with liners(spend the extra money and get the tin muffin liners well worth it)
In a large bowl, mix together the yogurt, oil, lemon juice, egg whites, honey and lemon extract. In a separate bowl, stir together the flour, baking powder, salt, and lemon zest. Add the wet ingredients to the dry, and mix until just blended. Gently stir in the frozen raspberries. Spoon batter evenly into the prepared muffin cups. Sprinkle remaining sugar over the tops for decoration, if desired.
Bake for 15 to 17 minutes in the preheated oven, or until the top springs back when lightly touched. Cool muffins in the tin on a wire rack.
NOTE: Would be excellent with blueberries as well...just substitute blueberry or plain yogurt for lemon yogurt and the blueberries for raspberries.